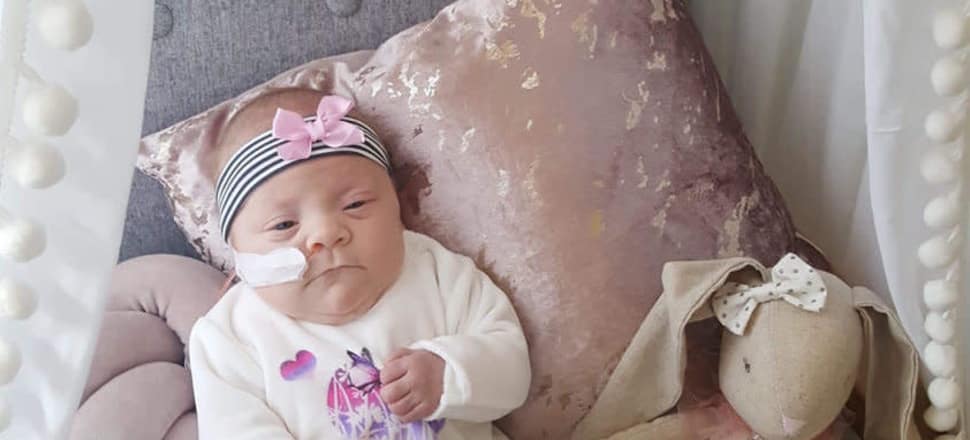 5370537724001
Baby Rivah Tiya Johnson has made it home after 130 days in the neonatal intensive care unit and has beaten the odds by not needing to be on oxygen.
Rivah was born prematurely at 24 weeks on February 26, weighing only 761g.
She was delivered naturally at Goulburn Valley Health, becoming one of Shepparton's tiniest fighters.
When the The News last spoke with Rivah's mother Rebecca Brown, Rivah weighed just over 2kg at what would have been 37 weeks' gestation and was awaiting another surgery to reconnect her bowel.
Now home for more than a month, Rivah still has her nasal gastric tube to help her suck, breathe and swallow, three natural instincts she has not developed on her own.
''Due to surgeries, she didn't develop her suck, breathe, swallow in time and has a bit of an oral aversion, meaning she fights a bit when things are put in her mouth due to the trauma she suffered from her NICU journey,'' Ms Brown said.
Rivah had her final operation on June 14, two days after her actual due date of June 16, to reconnect her bowel.
''The surgeon said she healed quite well inside from the previous bowel operation and said she shouldn't have any further bowel issues as she grows, except her battle scars,'' Ms Brown said.
She said Rivah had a setback when she was being extubated after the operation.
''They tried continuous positive airway pressure and high flow when extubating her but she needed a bit more time, so she was re-intubated, but was successfully extubated on June 19 and went straight to low-flow oxygen.''
Ms Brown and Rivah's father Jamie Johnson were told she would need to come home on oxygen, but as the doctors arranged for discharge they attempted trailing her off it.
''She came home oxygen-free and she is doing amazing now, reaching her smiling milestone at five weeks corrected age,'' Ms Brown said.
Last week saw Rivah head back to Melbourne for a follow-up appointment post-surgery.
''Her eyes have stage two retinopathy of prematurity and she has chronic lung disease where her lungs may need some help as she grows through the winter months,'' Ms Brown said.
She said her audiology appointment went well with hearing results coming back better than expected.
''Her hearing displayed results better than some full-term babies, meaning her hearing is absolutely perfect.
''This was great news for us; because of her ventilated history being longer than normal, her risk of developing hearing loss was significantly high.''
A visit to the surgeon who operated on Rivah's bowel was a joyous reunion.
''We have so much respect and appreciation beyond our words for the man who basically saved our baby girl,'' Ms Brown said.
''They have history and he was amazed at her progress from being such a tiny fragile baby when he first operated to seeing her such a strong baby girl now, four times the size,'' she said.
The surgeon discussed Rivah's high risk of developing a kink in her bowel with the scarring she has inside her body.
''We were told to watch for certain signs and symptoms and if they exist to take her to hospital ... she will be transferred back to the Royal Children's Hospital for possible surgery to fix it,'' Ms Brown said.
The family also visited the Royal Children's Hospital last week to surprise the NICU staff.
''They absolutely enjoyed seeing Rivah and hearing of her great success that has continued outside its walls,'' Ms Brown said.
She said seeing the staff was a beautiful feeling because they remembered the tiny survivor who fought her way through many illnesses and kept them on their toes.
''Seeing her NICU doctor who was responsible for everything done with her and all decisions made for Rivah's care was a feeling like no other,'' Ms Brown said.
''The joy in his face looking in and talking to her, saying how beautiful she is. He was very proud to see her doing so well.''
She said they owed the ward a visit for saving their baby girl and the joy on the faces of staff members said it all.
''It brings them hope for the next baby they try to save.''
Rivah would have follow-up appointments in six weeks, along with an eye test to check her retinopathy of prematurity, but overall she was doing really well, Ms Brown said.