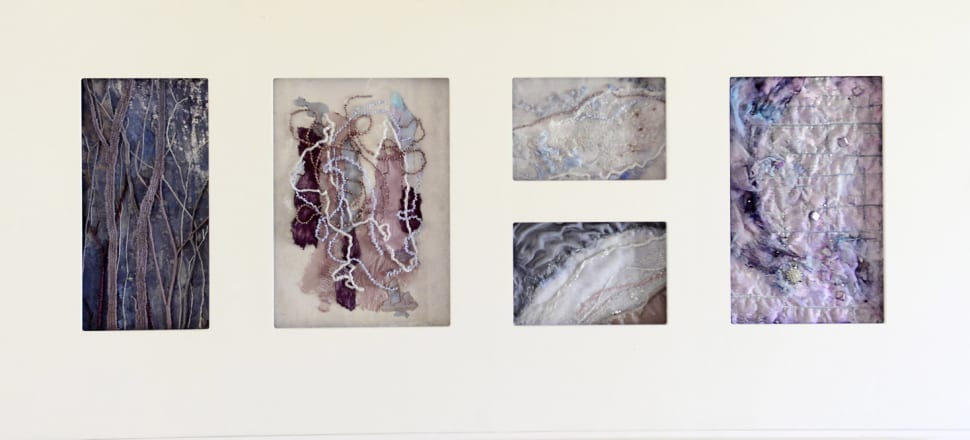 5370537724001
The walls of Dianne Hanna's home are filled with little windows into nature — each carefully layered with different materials and then deeply framed in white.
Each frame draws you in, until you find yourself lost in the layers and wondering how they came to be. Sometimes the frames are windows into something deeper than thread and silk.
On a bedroom wall are five small windows of layered material and beading in hues of maroon, purples, soft blues, creams and pinks divided into rectangles and placed under glass.
The effect is abstract but it could be water, or cloud, or it could be pure emotion.
Somehow, each window is separate but connected.
''Sometimes I'll just start with techniques, textures of things and colours. Then I play around with it,'' Dianne says.
''With this one, it didn't hit me until I'd finished it. Now I think it's about the stages of my life — childhood, teaching, working, family and retirement.''
Other pieces are drawn more directly from the real world.
A keen photographer and walker, many of Dianne's artworks are based on photographs taken on trips to her favourite places such as Winton Wetlands, the Strathbogies, Lake Hindmarsh in western Victoria or the Coorong in South Australia.
She says she often thinks in fabric when she looks at a landscape.
''I can see where the layers of fabric would come together — like the combination of golden light and dark skies. It just looks so textiley,'' she says.
Dianne is also a keen bird watcher and takes a camera on every trip.
''My goal is to capture as many Australian birds as I can — I have about 300 so far,'' she says.
Bird feathers, gum leaves and dry lakes all become subjects for Dianne's keen camera eye.
''You can look into nature and see patterns and paintings all the time. You go out and see the world with different eyes. I'd love to have a macro lens and get into the tiny details,'' she says.
Sometimes she cuts up photographs to make collages for inspiration.
Then she delves into her collection of fabrics to see what happens.
Woollen yarn, silk ribbons, and silk paper, stretched silk, fishnet, op-shop jewellery, beads, cotton threads and something called Tyvek — a synthetic material often used to wrap buildings — suddenly become tree bark, shimmering rivers, and swaying grasslands.
Dianne can also stitch the fabric layers, brush them with acrylic paint, or use a soldering iron to seal the edges to create an endlessly fascinating variety of effects.
A member and past president of the Shepparton Textile Artists and a regular at the South Shepparton Community House Needle Magic group, Dianne enjoys the social aspect of textile art — but she has never sold any of her artwork.
''I really do it for myself. I've never put a price on my work — I get so involved in each piece I want to keep it,'' she says.
In her retirement, Dianne has blended her lifelong working knowledge of science with a new-found joy of creativity. She uses textile art and photography as a lens to endlessly examine the world around her.
''It can reflect your world, or make sense of your world — and sometimes it can be a window into your soul,'' she says.