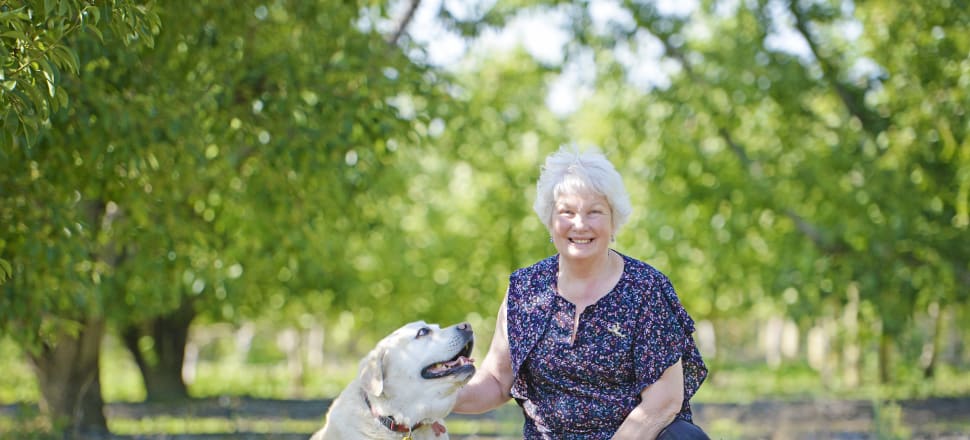 5370537724001
The sign out the front of Valley Star orchard should read 'must love dogs', for visitors will be welcomed by an excited 46kg labrador named Charlie.
The spoilt six-year-old was gifted to orchard owner Elita Ymer after the loss of previous dogs Buckley and Tiger in 2013.
"I looked out the window one day and all of my six grandchildren had arrived, and I thought, well isn't this nice," Mrs Ymer said.
"My grandson's wife was holding this little fat-bellied puppy wearing a big bow and again I thought, well isn't this nice, they've brought their new puppy around.
"And they said, no Nanny, he's for you."
Mrs Ymer said Charlie had arrived with love and he had been filled with love ever since.
But Charlie's first night in his new home was a bit of a mess.
"Apparently he had got into a bag of chicken necks before the grandchildren had picked him up and the next morning the laundry was covered in poo and wee — after that he was all good," Mrs Ymer said with a laugh.
She said this encounter with food had not deterred Charlie from his love of eating.
"Twice he has been rushed to the vets because he's gotten into rat bait around the shed," Mrs Ymer said.
"Every time I take him to the vets, they tell me he needs to lose some weight but he's so spoilt and he eats a lot of apples and pears, you see."
Mrs Ymer said Charlie had been feeling a little lonely around the orchard since his friend Chilli left.
"Chilli is my niece's dog and when she worked here, Chilli would come with her, and the two of them were inseparable," she said.
Now a cat named Lil Fella has befriended the labrador.
"We've always had feral cats and one of them decided to stick around about 18 months ago, so he's become part of the family and now him and Charlie are inseparable," Mrs Ymer said.